COLUMBIANA COUNTY FLAG

The importance of a flag for Columbiana County is to show how special it is to the people who live and work here. First, to associate it to something familiar, it's shaped like that of our state flag. Columbiana County has several state parks to house our wildlife and give sport, beauty and recreation to all. The green background represents our state parks and the beauty of all our hills, fields and wooded areas.
Our county consists of 18 townships, so 18 white stars should encircle the emblem. Pottery, which started its abundant business with a one-kiln plant in 1838, is represented by the orange color on the emblem. The initials "CC" printed in dark blue are to show everyone which county the flag is for. The white color on the emblem represents the salt licks we read in our Ohio history books and for mining which produced electricity.
The bundle of 9 arrows represents the Indians which once roamed our hills and fields and for the historical background of our county such as Morgan's Monument in West Point. The wheat, which is in a bundle of 8, represent the farming done in Columbiana County. Together, the wheat and arrows represent Ohio entering the Union as the 17th state, thus making our county an important factor because Ohio needed a certain number of people per territory to be admitted.
Last, but not least, the blue band represents the Ohio River, which has made our county prosperous. It's been the home for many factories and has been used for centuries as transportation. It also has brought beauty and recreation to the people who live and visit in Columbiana County.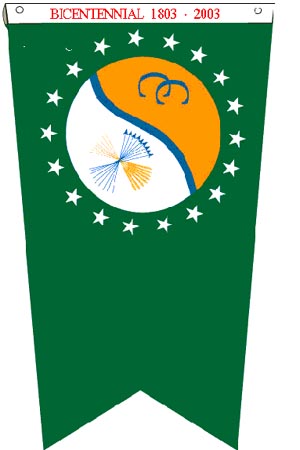 DESIGNED BY DEBBIE THORP
SALINEVILLE, OHIO 1972